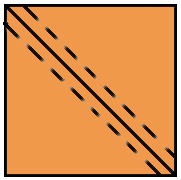 Our London Sports pattern incorporates Half Square Triangles.
A quick pieced method is:
Cut out two squares from the two different fabrics your required size and add 2.2cm (7/8") to this size e.g. for a finished size 15cm (6") square you need to cut out a 17.2cm (6 7/8") square.
Place them right sides together and press into place and pin.
Draw a line with a marking pen, pencil or chalk along the diagonal from the top corner to the bottom corner.
.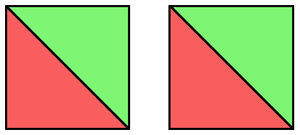 This is the cutting line, so stitch your seam allowance on both sides of the cutting line and cut along the diagonal line.
Press open and this makes two pieces.
Some of the blocks that use Half Square Triangles- Friendship star (4 pointed star), Four- Patch Sawtooth, Airplane, Square Dance and Jagged Edge.