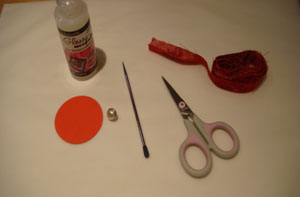 Ensure you have all the following items to hand:-
1" x 39" piece of fabric folded in half lengthways and pressed.
Circle of card
Pearl Brad
Scissors
Pointed Tool
Fabric Glue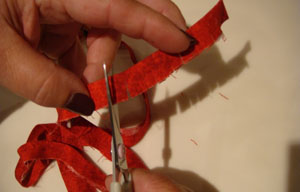 Take the piece of fabric and cut from the selvedge towards the fold to within an 1/8th of an inch of the fold, every 1/8th of an inch along the fabric until you have fringed the whole piece.


Twist the piece of fabric until you have tight turns all along the fabric.

Holding the end pieces tight, fold in halve and let each side twist back on itself.


Now take the cardboard circle and cover with sufficient glue to hold the fabric in place.

Starting at the centre of the circle, tightly curl around the fabric on the cardboard until all the fabric has been placed.

When completed the last wind of fabric should just be visible off the edge of the circle of card, when viewed from beneath. (It is sometimes easier to curl up the fabric on your bench, before placing onto the glued card.)

Put aside and leave to dry.




When dry, take the pointed tool and make a hole in the back of the circle of card. Ensure the hole is large enough for Brad to go through.




Insert the brad from the front of the flower and open the pins on the rear.




You now have finished the ragged flower ready for use as an embellishment.